Ice Diving Safari in Russia's Galapagos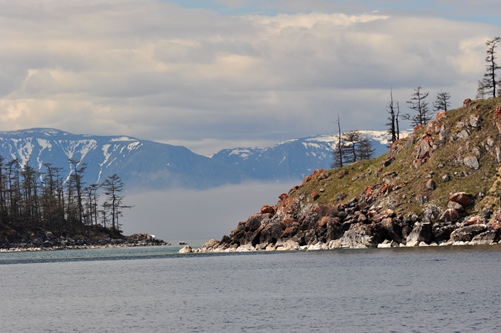 Where?
Siberia's Lake Baikal is a magical destination, a place of superlatives and amazing statistics. It is the oldest, deepest lake on the planet and contains 20% of the world's unfrozen fresh water. It occupies an area the size of France, is fed by 330 rivers and drained by only one, the Angara. Often called "Russia's Galapagos", Baikal's age and isolation have combined to produce incredible biodiversity. It is home to over 1700 species of plants and animals, two-thirds of which are found nowhere else.
When?
The changing seasons offer vastly different experiences for visitors but the most challenging and rewarding time to go there is late winter/early spring when the lake delivers beautiful scenery, myriad opportunities for winter sports and the most unique ice-diving experience anywhere. In February and March, when the ice is so thick you can drive across it and when interlocking sheets of ice create a spectacular landscape of ridges and canyons, you can do a "land-based" ice-diving safari by jeep across the lake.
How?
If you live in Asia, your journey starts in Bangkok or Seoul which offer direct flights to the city of Irkutsk at the southwest end of the lake or you can take the more leisurely option and fly to Moscow or Beijing to catch a Trans-Siberian train, four days in each direction. My recommendation: take a buddy and go first class in a private two person compartment. You will need a Russian tourist visa but these are easy to get; consult your Russian Embassy.
From Irkutsk you join a convoy of 4-wheel drive vehicles and head up to Olkhon Island in mid-lake where the village of Khuzir acts as base camp for the safari. The truly adventurous can continue further north where the wild Ushkany archipelago is home to a large colony of unique fresh water seals called "nerpa", fat, furry little guys with big eyes and funny faces.
What?
The usual programme covers seven days and involves one ice dive a day with frequent stops along the way to explore and photograph the gorgeous, other-worldly natural ice sculptures, walk on completely clear fields of frozen water or explore ice caves formed by freezing surf between rocky outcrops.
In the evening you can enjoy the mobile sauna and be introduced to the delights of "Banya", an essential life-enhancing Siberian experience featuring super hot steam baths followed by quick dips in the icy waters of the lake and beatings with freshly-cut leafy twigs. Of course, the last two elements are entirely optional but what a story you will have to tell!
Under the ice you look up to a fabulous, intricately decorated white glass ceiling and down to a dramatic, bright green world decorated with huge tree-like sponges. Small fish flit among the undergrowth and incredible alien-looking crustaceans known as amphipods, over 250 species of which are unique to Baikal, are everywhere.
Is it for me?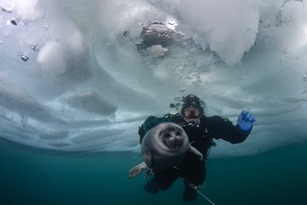 If you have not ice-dived before, use the first two or three days to take a course. Yes, this is extreme diving but the challenge is mental rather than physical; diving in an overhead environment is not for the claustrophobic and you should have good skills and the ability to remain calm underwater. If this is you, you will have no problem with ice diving.
What to wear?
Take a drysuit if you have one or you can always rent one there. Don't even think about diving wet! You will use single cylinders equipped with a dual outlet valve, so in addition to your normal dive gear you will need to take a separate regulator first stage for your octopus. Each regulator should have its own contents gauge too and it is good practice to have your BCD inflator attached to one regulator and your drysuit inflator to the other.
At this time of year, the skies are clear and the temperature can rise above zero during the day although it will plummet to as low as minus 20 at night. So pack a quilted jacket with a hood, a strong pair of boots or shoes, thermal underwear, thick woollen socks, a woolly hat, gloves and don't forget sunglasses, to protect your eyes from the glare.
Conclusion
The combination of mystical Baikal, the frozen lake-scapes and the whole concept of diving under the ice of the deepest lake on earth combine to make this one of the most fulfilling and rewarding diving experiences you could ever hope for. For more information visit www.baikaldiving.ru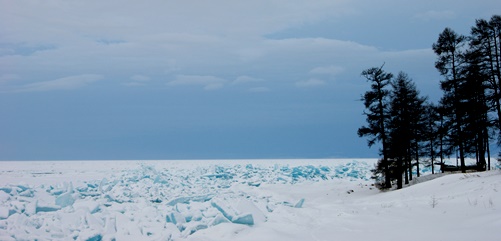 Simon Pridmore. Foto by Olga Kamenskayay. Magazine EZDIVE