Diving Safari in Honour to the 50th anniversary of a Korean University Dive Club.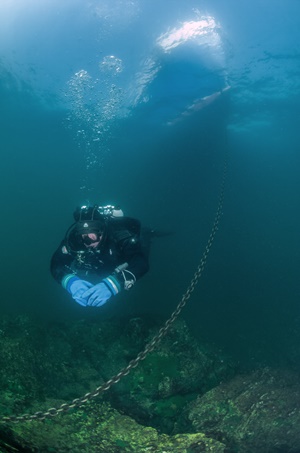 November 1. A frosty morning. Out of the cafe window I can see the Baikal slowly chilling down with a gentle fog over its waters. Listvyanka shores are deserted, a few cars parked on the road along the shore, almost no people to be seen. Just a few leaves on the trees and bushes, very few needles on the larch trees, almost no needles, in fact - one can see spots of snow between the trees in the distance.
Low season ☹ .
I like this time. That's why today, having made a dive to the depth of 100 metres with 15 minutes bottom time I am not in a hurry to go away from Listvyanka. A notebook, hot coffee, relax time after the dive at a cafe and the chilling down Baikal outside.
It happens often so (judging by our travellers' experience) that low season proves to be a very good time. Just like now here in Listvyanka - no people, the deserted Baikal. It is warm – +10 Celsius in the day, warm water – +9 Celsius. Good visibility. For example, today I did not need the torch down to the depth of 90 metres - the visibility was 10 metres without my torch. The closer to the surface one gets, the better visibility she/he has.
In the distance next to the pier there is our safari boat Valeriya swaying on waves, as if deep in thought. Having made its way through the stormy Baikal in September-October during our Golden Autumn safaris, it is in confusion. Why are we not on the way? Calm weather, there is a light breeze in the sea almost constantly, any dive sites can be reached easily without any weather hindrances, divers say, that the water is very clear, my equipment says that it is warm (in June-July the water was much colder, than now, a lot colder).
I share Valeriya's confusion. It is high time to go on a safari, but there is nobody to opt for it. Everybody thinks that there is nothing to do in Siberia by lake Baikal in November: cold and miserable.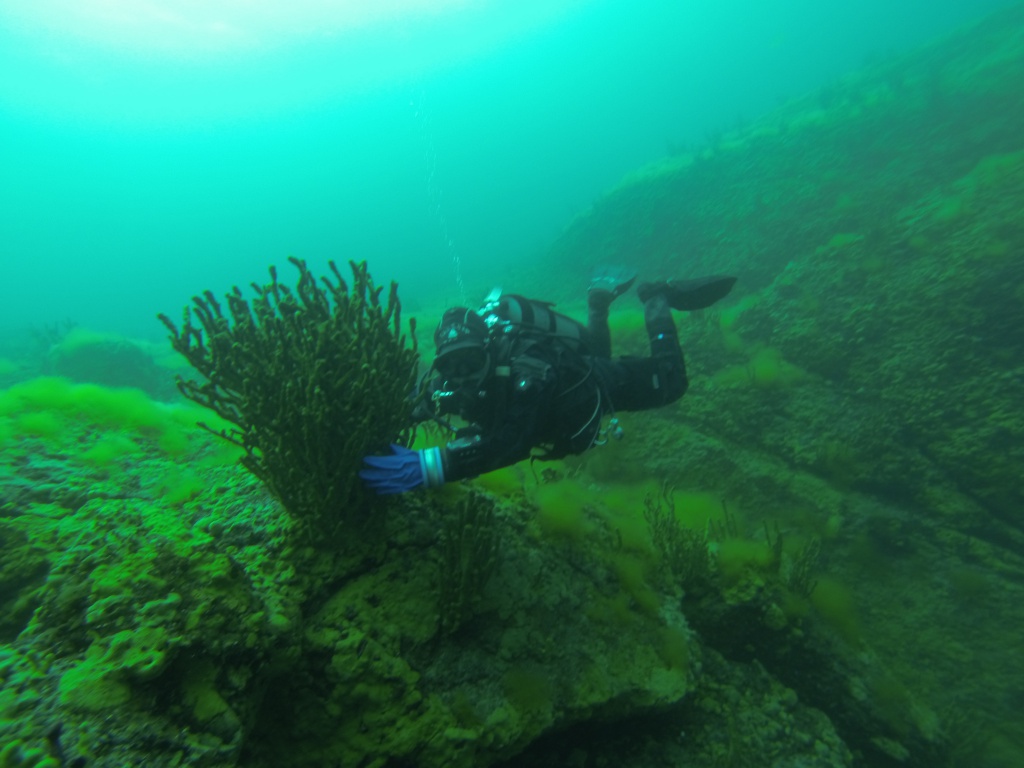 What a dramatic mistake! It equals to the mistake some make by not coming to Patagonia or the Andes in winter; or by not going trekking in the Himalayas in late autumn; by not having a holiday on the European coast in winter time. If we are talking about the Baikal in November - warm water, comparatively warm on the surface, and the wind atlas says that it is quite little wind.
We have a special price for November low season. It is lower than that for the popular safaris - Chasing The Ice, Around Lake Baikal Safari, Olkhonskoye, Golden Autumn. Keep this in mind for the year to come. Right now it is, of course, too late.
December is soon. There are real connoisseurs of December Polar safaris, who would come for this programme for annually. Fantastic visibility is guaranteed, as well as comparatively warm water (+4О, +5ОС), sometimes the air temperature is very low, luckily, our safari boat Valeriya is always welcomingly warm, as it is designed to travel in any weather. A sauna aboard, a special room for drying the equipment; tasty meals - these are the additional factors that make the safari so irresistible. If the people on the safari enjoy communicating, then the winter evenings turn really short with everybody participating in an interesting discussion. If not, we have a nice collection of films about Lake Baikal aboard as well as Wi-Fi.
Looks like I got carried away by my thoughts.
So, there can't be seen any fog on the water any more, as the day proved to be quite warm and the air temperature rose by noon time. I am recollecting some recent interesting events that took place in our dive centre BaikalTek in July-October.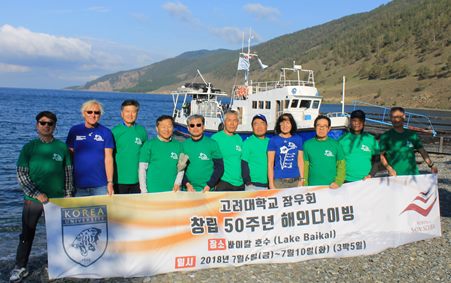 First things first, I would like to tell you about a diving safari, which we made with a team of divers from Korea. It is unique in several aspects:
Firstly, it was the first diving safari of the Baikal with a Korean group.
Secondly, this safari was arranged for VIP CMAS Korea representatives.
Thirdly, this safari was devoted to the 50th anniversary of a Korean University Dive Club.
It is a great honour to us, that our lovely lake Baikal, dive centre BaikalTek and our safari boat Myth was chosen to celebrate the event.
Korean divers (to be more precise, instructors, as all the group members were CMAS instructors) enjoyed all the beauties of our diving safaris:
· had various dives in the dive sites of the following dive areas: Circum-Baikal Railway, Bolshiye Koty, Khomuty.
· like we usually do, we went on trekking tours (1-3 hours every day) of the Big Lake Baikal Path and Circum-Baikal Railway.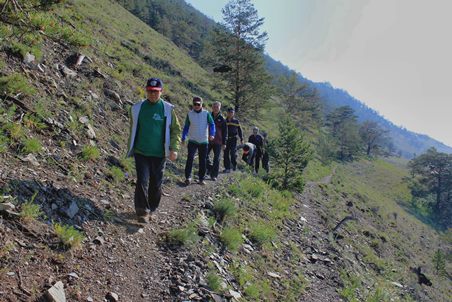 · enjoyed the great food cooked by safari boat Myth cooks.
· went to a sauna on the shore: it is a big tent (with a hot stove and hot stones) assembled right on the spot by the safari boat crew.
Their next trip to lake Baikal the team of Korean divers want to make to see the Baikal ice, taking part in the famous Jeep Ice Diving Safari. All team members are certified as Ice Instructors, which they got diving in the lakes in Korea, that freeze in winter time. Everybody wants to see the beautiful transparent lake Baikal ice. Hopefully, we will see them soon!
Tech diving safari. Sounds beautiful! We are, being a tech dive centre representatives (Name: BaikalTek. Number: 1002273. SDI Type: 5 Star Instructor Training Facility. TDI Type: 5 Star Instructor Training Facility. Number: 1330. IANTD Type: Trimix Instructor Training Facility), are just melting when we hear this word combination - diving safari, a tech diving safari to crown it all!
Sure! Great dive sites with walls, deep canyons, deep water mountain ridges. Any gases in unlimited quantities. Twin tanks, stages, Sofnolime (if you wish), reasonable prices. We would definitely go on such a safari if some other dive centre (apart from ours) offered them. I am not saying offered them in lake Baikal. To speak globally, they are basically not offered anywhere in the world! Give me a clue and I will happily jump on the opportunity.
We must say, we are regularly arranging such safaris and some of them are regularly booked by a Moscow dive club "Cousteau" (Kousto). That's why their tech safaris we can call traditional. This year their club team visited us in August.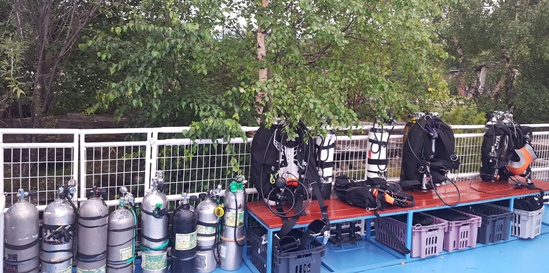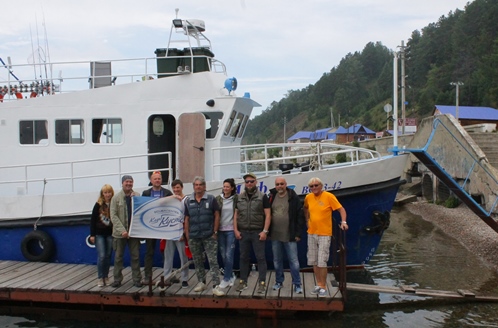 The safari followed an unusual route, we visited the mouth of the Selenga river and made a dive to a mud-and-methane volcano. We examined this unusual dive site. It is 4 km up from the Selenga mouth, at the depth of 40 metres, at the clay-and-sand bottom on the river. The geological structure of the river bottom is predictable. The volcano is a small mud crater letting out methane. This dive site is for true connoisseurs - those who wish to see something special are recommended to dive there. To say the truth, diving there is quite difficult - depth, drift diving. There is a risk of missing the volcano (despite the accurate coordinates) in case of big waves. Coustaeu club members were lucky - the waves were not so big - we reached the point and made an interesting dive.
Apart from the volcano there were the best dive sites of Circum-Baikal Railway, Khomuty and Bolshiye Koty. We made dives to the places where crashed railway carriages sank; we dived to see the remnants of the old pier for ferry Baikal and, of course, to the walls and canyons. For next year we are planning yet another tech diving safari for Cousteau club: the northern route and longer in time. Tech diving in the area of Brown Bears Shore is a unique trip. That's why it is twice more interesting for us to go on this journey.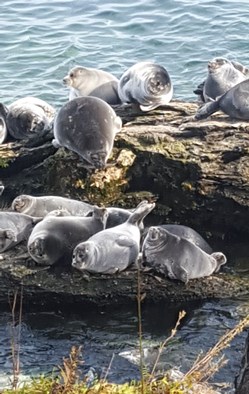 Safari season for the Myth safari boat finished by the programme Golden Autumn to the northern, long route. This was very unusual for Myth, as this is not a big boat and end of September-beginning of October is a very stormy time for the Baikal. Golden Autumn has a very beautiful and interesting programme, but long periods of strong winds are typical of this season.
Safari team was of Waterworld representatives, i.e. German-speaking divers - German, Austrian, Swiss. This is the tendency of the recent couple of years - German-speaking groups are at the top of the list of divers going on lake Baikal safaris. We used to speak about the phenomenon of Polish divers exploring lake Baikal in numbers like no other nation, it is high time to note the tendency typical of German divers today. Mind it, it can be referred both to open water and ice diving.
We usually sell 2 types of safaris on Myth - Economy - for a group of 10 people and Comfort - for maximum 7 people: this allows travellers to have single accommodation in small cabins and double accommodation in bigger cabins. There are 2 types of cabins on Myth - large/spacious and small ones (like those in a railway carriage). Waterworld group went on a Comfort safari variant and qualified Myth as a great comfortable boat with good food and proficient crew. In the season to follow Waterworld representatives plan to continue exploring lake Baikal with the help of Myth. Igor Starosvietskiy - the head of the group has visited lake Baikal many times and we come to a conclusion that the main difference between safaris on Myth and Valerya is that on Myth one spends more time in the open air, being on the deck and watching the lake.
During the trip the group dived in the dive sites of the following areas: Bolshiye Koty, Khomuty, East Olkhon, the Ushkan Islands, Brown Bears Shore, Circum-Baikal railway. We enjoyed great diving. Watched nature and the Baikal - autumn, golden - a lot. Saw many nerpas (lake Baikal seals) even underwater.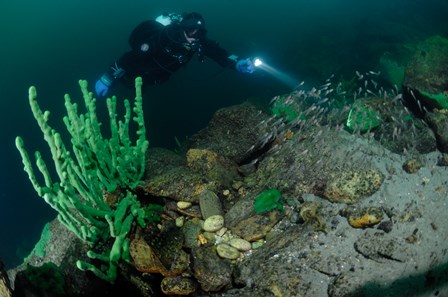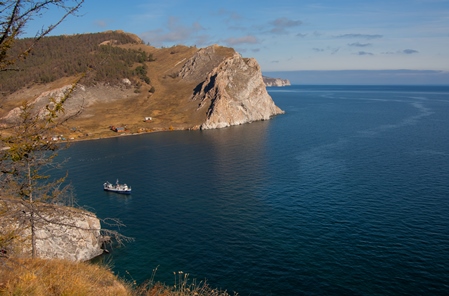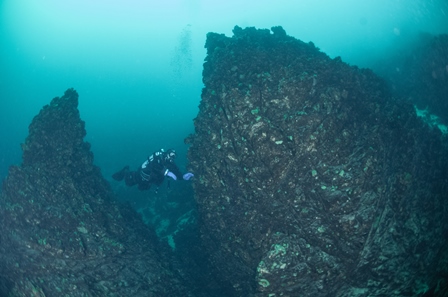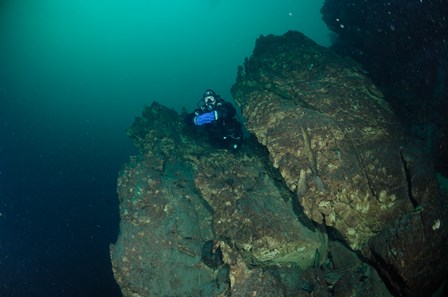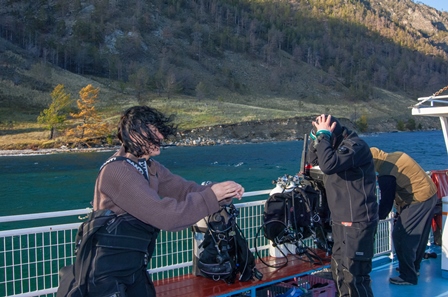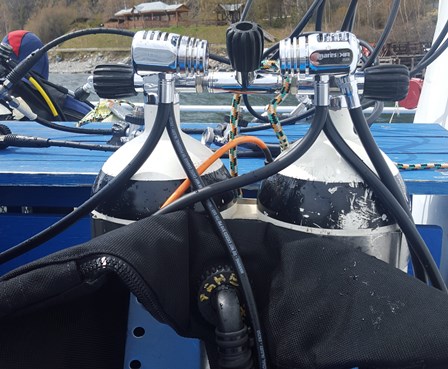 During almost all safaris when we dived deep, i.e. during tech dives, we were testing a new regulator by MARES - this is MARES 25XR DR regulator, which the company top managers provided to us for testing. Every time we use Mares 25XR DR we keep noting the high quality of their functional side and will continue using them for the Polar safari, when we will make a series of deep dives.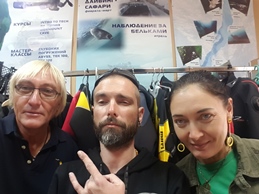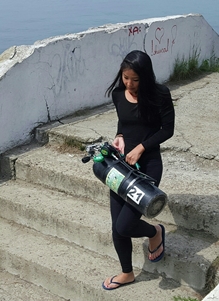 Surely, not only safaris made up our life. Diving safaris are one of the core components of our work, we arrange them on a regular basis and even on 2 boats. However, the other important component of our activity is teaching diving. Diver qualifications upgrade, (teaching tech divers and teaching instructors (technical instructors as well) - this is our unlimited field of occupation.
We delivered the following courses within the mentioned period of time: OWD, AOWD, Rescue, Dry Suit, Advanced Nitrox, Decompression procedures, Trimix, Advanced Trimix, Sidemount Diver, Cavern Diver.
We delivered IDC and IEC – Voropayev Mikhail is a new instructor in Tomsk. Tomsk citizens, go to Club SKAT on the premises of Tomsk University for quality courses.
There were given Trimix and Advanced Trimix courses for a tech diver Haim Poko from Israel. Haim got a way for development. There were made many dives to different depths from 10 to 80 metres. Certification was made, but with a depth limit. After the minor mistakes are eliminated, certification will be full.
For divers from Russia, the USA and China we delivered Advanced Nitrox and Sidemount Diver courses.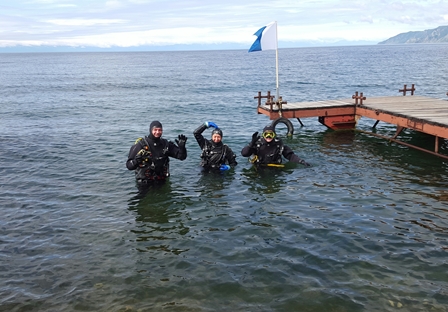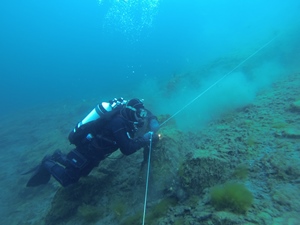 In the end of August - beginning of September we made a two week long diver expedition to the Lena river. The best way to tell about the event is to read the press release written by the expedition member, underwater photographer Olga Kamenskaya.
We finished our grand 2-year project to explore the headwaters of the great Siberian river. This was our joint enterprise "A Big Dive into the Small Lena" arranged by the Federal Unitary Budgetary Institution "Zapovednoye Pribaikalye" (Baikalo-Lensky Nature Reserve).
During the first stage of the project in 2017 we explored the possibility of travelling up the river and diving with the aim of filming fishes on the territory of the Specially Protected Natural Area in the Lena headwaters (the river is 4.4 thousand km long, 350 km are on the territory of the nature reserve).
Everybody knows Lena to be a great Siberian river, but just a few know where it takes its power from. It the far-away dense taiga, the so-called "aviation zone", which is very difficult to be reached. Last year we figured out what the river headwaters look like and that we need a full scale expedition to study it. Preparation for the second stage of the expedition took us almost a year.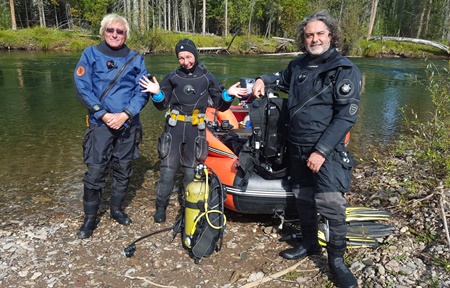 During two weeks in September a group of our video operators together with "Zapovednoye Pribaikalye" team were on the territory of Baikalo-Lensky Nature Reserve. About 300 km of the river were explored from the Reserve borderline to the confluence of the Lena River with the Malaya Lena River (The Smaller Lena, about 60 km away from the source of the river). The first dives in the history of the Lena River headwaters exploration were arranged by the team of dive centre BaikalTek. Deep segments of the river (pits and pools up to 7 metres deep) were explored by us, we noted large schools of grayling, Brachymystax lenok (a salmonid fish), Coregonus species (whitefishes), we studied their behaviour and made photo- and video- shooting of the fishes, underwater landscapes and the river shores. More over, we made an aerial survey of the expedition route and the segment of the river from the source to the Reserve borderline.
That is to put it in a nutshell. It should be added that we are working on making a diver photo-expedition like the one we have made. We plan to offer it as a tourist product. An exclusive offer. 2 groups a year maximum, as the reserve is designed to protect the territory, not to promote it.
There is always someone to spoil the photo of a very serious and important special group of divers, exploring the law-protected headwaters of the Lena River