New Year's Night and Tech Diving
After the Polar Baikal diving safari, challenging work at Lake Teletzskoye was awaiting us. The divers' programs: Intro to Tech, Advanced Nitrox, Dеcompression Procеdure, Heliotrox Diver, Nitrox Gaz Blender, and Advanced Gaz Blender. Instructors' programs: Intro to Tech, Advanced Nitrox, and Dеcompression Procеdure. Quite an impressive set isn't it. A week for technical diving training at the protected Teletskoye Lake. The courses were given by the trainer-instructor Gennady Misan and the course director, SDI Trimix instructor Tatiana Oparina. The weather conditions were perfect: warm (-2C), almost no wind, good visibility. The feedback of one of the participants describes it best.
Well, this is the end of the Tech Diving Week at the "Zazerkalie" dive station in Yailyu settlement. The week has just flown by! We lost the track of the weekdays and dates and tried not to get confused in our calculations. It was not easy. Such a tight and intensive schedule! You are up at 7 am, then, there is breakfast, lecture, exercises, planning, briefing, preparation, diving, discussion, debriefing, problem-solving, briefing again, and diving… Then it's already evening, and we fix the equipment, following the instructors' remarks… And after that, you crawl up the hill and fall onto your bed, exhausted. But you cannot fall asleep, you scroll every minute of the dive in your head, analyzing and looking for the reasons of your mistakes… And then in the morning, "Get up!" What, already? To be honest, I was tired. But there was no time to think or worry about that.
The weather was wonderful, almost spring-like! But Lake Teletskоye has its own opinion on diving training. Practice makes perfect, they say. No problem, here is the Wave! We did not dive in such a heavy storm though, waited until it calms down.
And I was really lucky. One teacher is good, two is even better. And two best teachers make it precious. Gennady Misan and Tatiana Oparina, thank you for your making all the long way and coming to share your knowledge, experience and wisdom! You did not only answer all our questions, but you also analyzed the situations, and you gave solution options and practical examples. Thank you for your high-grade professionalism, objective evaluation, thorough debriefing and promptly encouragement that was inspiring and empowering. Thanks for the interesting and useful communication. Living on the shore of Teletskoye Lake feels like living on another planet. When you came, it felt like the guests from a similar neighbor planet visited us, the same kind of people, and that was great! A return visit is ours!
Yes, it is great when there are two pairs of diver's eyes that won't leave a single detail unnoticed (and sometimes, I had the feeling they can see through me). I was three times as lucky. Tatiana Klimenko, my friend and comrade (and now, a tech dive instructor), thank you for your support and for your belief in me! My congratulations on the successful completion of the course!
And what would we do without a gas blender? Roman Vorobjev, my friend, thank you for every bar of the delicious gas in our tanks! Gasoline, compressor, oxygen, helium, tanks, and sleds… And then, the firewood and the stove… You had time for everything and besides, you made serious dives yourself. Thank you! Now you are a certified gas blender, hurray! Hurray to the whole "Zazerkalie" dive station! Good beginning, guys!
Warm hugs to everybody and good luck in tech diving!
The courses are over. The students got excellent and good marks. We thank all the participants for their work. And we can state now that the dive station "Zazerkalie" on Lake Teletskoye in Yailyu settlement is a base for technical diving courses and for diving of any complexity level. They have a tech dive instructor, a certified gas blender, and enough experience to organize tech diving on their own.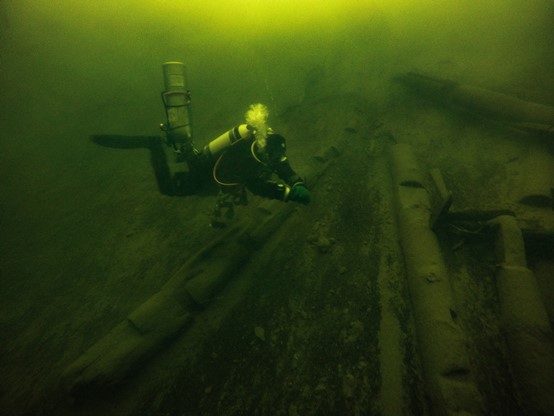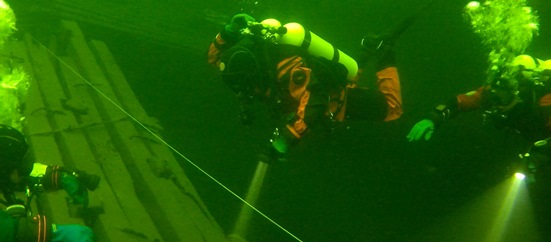 Teletskoe lake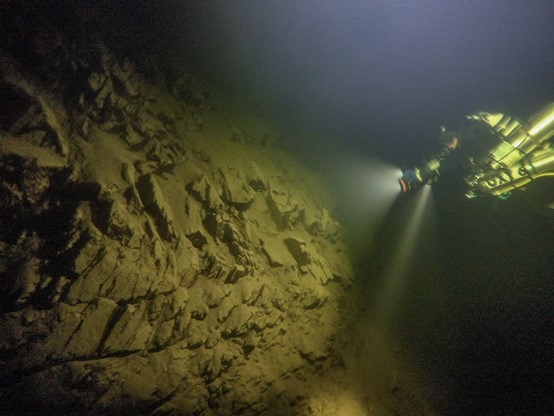 Teletskoe lake. Deep Trimix Dive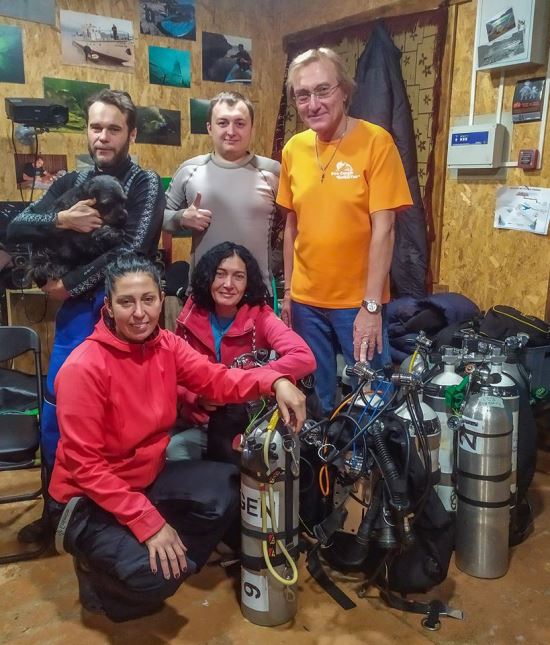 Teletskoe lake. Students and instructors

Now back to Lake Baikal. We have organized many different diving safaris with different routes last year. The "New Year diving safari" was the crown of the safari season, and the participants booked it well beforehand. Just imagine what it is like to celebrate New Year on a comfortable ship at a deserted shore of the lake. How special it is to decorate a wild-growing fir tree and play roundelays around it. Or to make a dive-in in the past year and dive out in the new year, cleaned from all the old troubles. This three-day safari closed the season. The underwater Christmas tree, perfect diving, scooter race, sauna, traditional Russian New Year salads, and champagne – all this was in the safari. Only you were not here))).
So do not miss the chance to book the next New Year safary.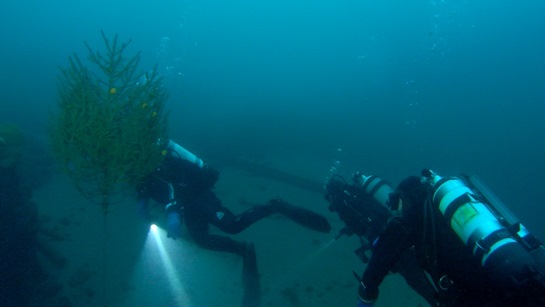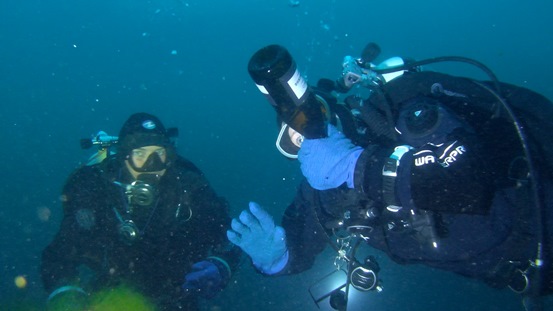 New Year Diving Safary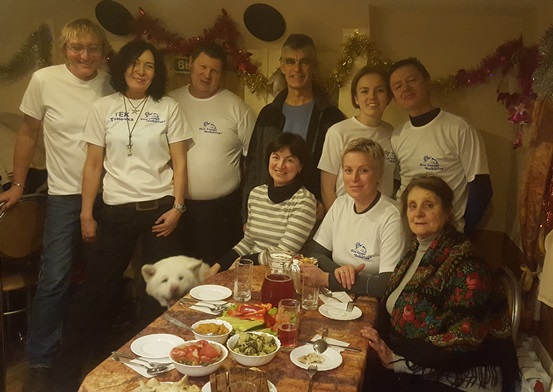 Group New Year Diving Safary

After all the holidays, Baikal disposes to the unhurried daily diving within the framework of which we normally give some courses. January is a perfect time for this: transparent and quiet water, the lake is not yet frozen. You can plan diving courses for yourself for the next January. The choice is great: from a beginner's course to an instructor's or even a tough tech diver's one. Of course, the "Drysuit" courses are also popular. Our participants from different countries understand that the January holiday is the right time for training and perfect diving.
And ahead is the Ice Diving Safari, the first one starting at the beginning of February. We still have vacant dates available for the safari teams. Join the world's best Ice Diving!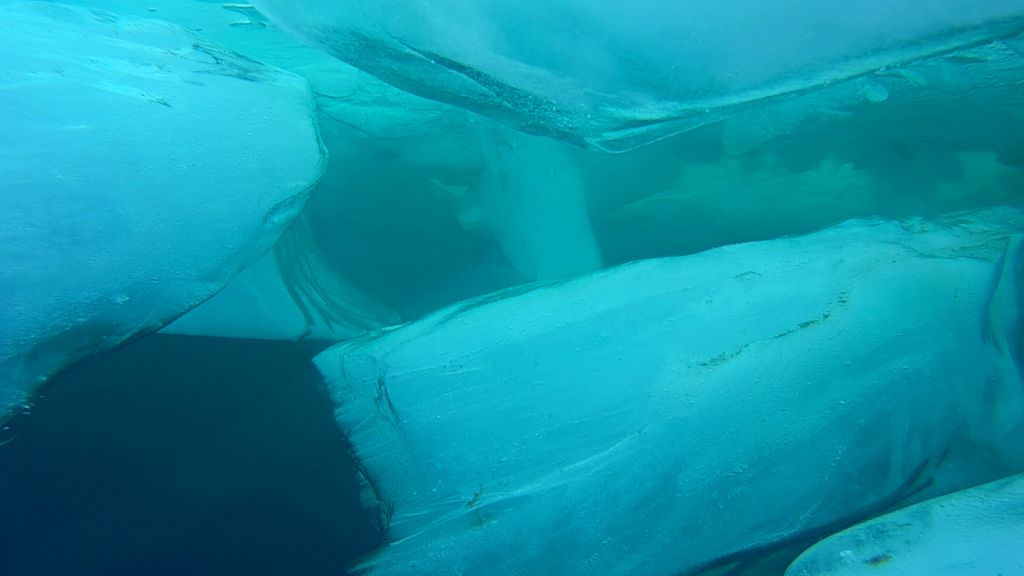 Baikal Rock Ice